Personality Type and Social Emotional Learning: Responsible Decision-Making (SEL Series – Part 4)
Yvonne Nelson-Reid is a master practitioner for the Myers-Briggs Type Indicator®) instrument and a practitioner for the Murphy-Meisgeier Type Indicator for Children® (MMTIC®) assessment, who has been helping individuals, families, and children understand themselves better for over 25 years. In the fourth article of this series, Yvonne integrates her years of experience as an educator with her expertise in personality type to explore connections between type and Social Emotional Learning (SEL). New to Type? Click here!
In part one of this series, Personality Type and Social Emotional Learning (SEL), I explained SEL as defined by the Collaborative of Academic, Social, and Emotional Learning (CASEL) organization. Furthermore, I suggested that SEL teaches an awareness of what we need to know for healthy development and learning personality type teaches how individuals go about doing so based on their natural styles. They go hand in hand. Personality type aligns with and strengthens SEL.
How does learning about personality type support the five core competencies of SEL? In part two and part three of this series, I demonstrated the connection between type and the SEL competencies of Self-Awareness and Self-Management, respectively. Now, I turn to Responsible Decision-Making.
Responsible Decision-Making
CASEL defines Responsible Decision-Making as: "The abilities to make caring and constructive choices about personal behavior and social interactions across diverse situations. This includes the capacities to consider ethical standards and safety concerns, and to evaluate the benefits and consequences of various actions for personal, social, and collective well-being."1
Decision-making from a typological perspective makes us aware of what kinds of information we trust (Sensing or Intuition) and the criteria (Thinking or Feeling) we count on when deciding. How you approach decision-making will look different based on your personality type. Our strengths and stretches stand out. We may miss out on important information, and not even know it.
Gordon Lawrence introduced the Zig-Zag ProcessTM as a type-based way to approach problem-solving. Also known as the Z-Model, this process introduces a balanced method for decision-making by utilizing a Z pattern for guidance.2 Here he introduced the importance of using both perceiving mental processes, Sensing (S) and Intuition (N), when taking in information and both judging mental processes, Thinking (T) and Feeling (F), when deciding, recognizing that how we naturally access them will vary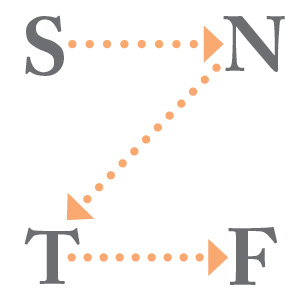 depending upon our personality type. By using all four mental processes there is potential for clearer perceptions and sounder judgements, which promotes responsible decision-making.
The Z-Model, as seen in the diagram, involves four steps:
Describe the problem and gather the facts (Sensing).
Use your imagination to consider new possibilities (Intuition).
Analyze logically the pros and cons of each possibility (Thinking).
Consider values and the impact on the people involved (Feeling).
Good problem-solving, in practice, suggests following these steps sequentially from S to N to T to F in a balanced way.
According to type theory, most of us have a natural bias when it comes to making decisions. We do not access each step equally or with the same level of competence. The suggestion here is that based upon our type, we will naturally gather information using Sensing or Intuition. People who prefer Sensing, for example, will look at the problem realistically considering facts and details from a practical stance focusing on both the past and present. Whereas, with an Intuition preference, people begin by exploring possibilities, other ways of looking at the problem, implications, connections, and themes. Both are necessary, but where we begin often depends upon our own personality type preferences. We tend to begin with our strength and in some instances, we may not even consider our stretch. Put another way, if you prefer Intuition, you may not ask the questions typical of a Sensing preference, or you may rush through it and miss out on important information.
When deciding, most of us will start with either Thinking or Feeling. The natural tendency for a Thinking preference approach to deciding tends be objective, detached, and impersonal. They consider pros and cons, logical consequences, and an analytical analysis. Whereas someone who prefers Feeling typically takes an empathetic approach. Decisions are made based on how each option fits with their values or the values of others. Considering the impact their decision will have on the people involved takes precedence. Like gathering information, people tend to lead with their type preference for deciding, as well. If they prefer Feeling, they may neglect the Thinking preference and vice versa. Both are required for effective decision-making.
Although the Z-Model lists and suggests using the problem-solving steps in the order of Sensing, Intuition, Thinking, and Feeling, people are more likely to lead with their natural styles. For example, someone with an ENFP preference may only use Intuition and Feeling (NF strengths) when decision-making and miss out on important facts and an objective view (ST stretches). On the other hand, people who prefer ISTJ may rely on Sensing and Thinking (ST strengths) without considering other possibilities and the impact the decision might have on other people (NF stretches). In respect to the Z-Model, the first example may begin with Intuition, touch on Sensing, jump to Feeling, and may or may not consider the Thinking preference. People tend to rely on their strengths while neglecting their stretches, which leads to poor decisions
The point here is that responsible decision-making uses all the mental processes. Since we prefer one kind of perception (S or N) and one kind of judgment (T or F) we tend to focus on our strengths and overlook contributions from our stretches. What do we need to learn to become more effective problem solvers? We need to learn how to access our stretches. Practice, using the Zig-Zag Process, can help develop these. The Z-Model provides a solution to balanced and responsible decision-making. Personally, we can honor our strengths and learn how to access our stretches for better decision-making. Interpersonally, knowing, understanding, and valuing our different decision-making styles supports constructive use of our differences and helps us all to appreciate and learn from one another leading to less conflict and more effective, responsible decision-making overall.
1."What Is Social and Emotional Learning?" What Is SEL? | CASEL District Resource Center, https://drc.casel.org/what-is-sel/.
2. Lawrence, G. (1979). People types & tiger stripes. Gainesville, FL: CAPT, Inc.