Thanksgiving: Gratitude Through Type
During a time of year that is about taking the time to recognize the things we are thankful for, I often find myself, ironically, struggling to do this even more so than ever. The holidays feel stressful. Our schedule is packed. The school is doing their annual holiday fundraiser and asking for volunteers. My daughter is in dress rehearsals for the Nutcracker. We have a holiday meal to plan. We have to figure out how to fit in all of our friends and family during the break. And so, instead of stopping and slowing down to recognize my blessings, I find myself instead getting annoyed by the everyday stressors of parenting during an especially busy time of year.
When I struggle with the everyday frustrations of parenting, I often find myself leaning on what I have learned about my children through typology to help me gain a new perspective. The best gift that personality type has brought me, is the ability to look at my children's way of being with appreciation. For every little thing they do that bugs me, I remind myself to appreciate our differences, and this helps me see these same behaviors in a more positive light. This is one powerful tool that helps me to stop being irritated, and instead take a moment to recognize the gifts in my child and how lucky I am to have them in my life.
One such everyday stressor is that my daughter and I have a difference in the way that we like to get things done. My daughter has a preference for Perceiving, and as such, she prefers to play around while she gets things done; she gets more done that way. I have a preference for Judging, and I am much more comfortable relaxing or playing only after the to-do list is complete, otherwise I cannot enjoy the fun.
In the mornings, when we are getting ready for school and we have to be out the door by a certain time, my daughter's preference for Perceiving can get on my last nerve. While she is supposed to be brushing her teeth, she has noticed her reflection in the mirror and has started singing a song to herself. While she is supposed to be putting on her shoes she has seen the puppy and wants to hold and snuggle the puppy first before she puts on her shoes. Meanwhile, with my preference for Judging, I am watching the clock and having trouble keeping the impatience out of my voice, "Lilly! What's next on the morning routine list, and why aren't you doing it!? We were supposed to be in the car 5 minutes ago!!!" Every morning, I struggle to understand why she cannot march through the morning routine as efficiently as her brother and I with our preferences for Judging. I tell her, "You can sing and snuggle the puppy AFTER you are ready for school and only IF there is time left!" The urgency to stick to my plan, can limit my enjoyment of spontaneous and precious life moments.
For example, in another context, on a rest stop during a long drive to see a friend, my daughter suddenly requests, "Mama, instead of getting back in the car, can I run into that amazing field over there?" I push aside my urge to get back on the road to continue toward our destination in order to make good time and say, "Yes." I watch in awe as she runs to the center of a grassy field full of dandelions, gently falls to her knees, closes her eyes, and lifts her face to the sun and sits silently for a few moments. Then she looks at me and says, "Doesn't the sound of the birds and the feel of the wind on your skin just make you feel like everything is going to be okay?" I lower myself to the ground next to her and am reminded to be open to what presents itself in each moment instead of rushing to the next one. And suddenly, I'm grateful for her Perceiving preference and her reminders that sometimes we can have fun or relax while we march forward toward our destination. I realize that my daughter's preference to have fun, while she's getting things done, has value too, and I feel grateful that she has shown me the beauty of making the most of every moment. I make a mental note to myself that perhaps we should start the morning routine a little earlier everyday so that we can hug the puppy before we put on our shoes, sing in the mirror while we brush our teeth, and still make it to school on time.
What are your kids' personality preferences and have you ever found yourself frustrated by them as I have? Where I thought my child's tendency to get distracted from the to-do list was aggravating, it turns out, if I look at it from another perspective, I am actually grateful for her ability to be spontaneous.
Check out the Personality Type--Gratitude chart below for the gifts of each preference so that the next time you feel bugged by their behavior, you can shift perspective to discover the reasons to be grateful for your child's respective personality preferences.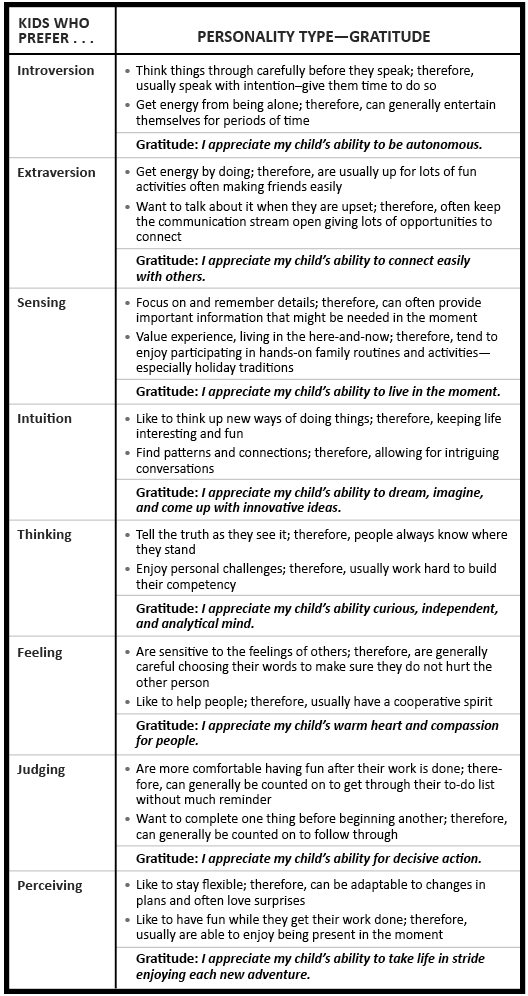 This year, at the Thanksgiving table, I'll be thankful that my daughter's Perceiving preference allows her to be spontaneous, finding joy in all she does, and that she helps remind me to do so as well. What will you be thankful for?